Original idea and Ideation
The original idea for an easy attached hand sanitiser case was based around my own children preparing for their return to school after lockdown.
With social distancing and hand hygiene being imperative to prevent the spread of COVID-19, young children returning to school need to have a clear understanding of the importance of keeping their hands clean. Many parents will want to give children a personal sanitiser to take school, although this needs to be kept secure and close at hand. The initial concept was to design a simple 3D printable clip/collar/case to attach a small hand sanitiser bottle to a school bag/lunchbox/pencil case. This collar or clip can be customised in terms of colour, school logo and can incorporate the child's name. The idea developed to using refillable standard bottles to reduce waste. Having the sanitiser close at hand will provide a reminder for use as well as prevent the sanitiser from being lost or misplaced.
Instant solution with Local Personalisation
One of the main issues with the increased demand for hand sanitiser is the amount of waste packaging created once the bottle is empty. Taking into consideration the impact of companies, schools and businesses using large quantities of hand sanitiser daily – having a standard size bottle or range of bottles for refill would be both cost effective and have a greatly reduced impact on the environment.
The instant solution has been to design a case to enable the bottle to be secured safely to clothing, belts or a smaller bottle collar for use with a lanyard.
The designs are 3D printed on professional 3D printers using PLA filament which is biodegradable and more environmentally friendly than ABS. The casing and collars are developed to be printed with a high (0.3mm) layer thickness and without the need for support material, this uses the minimum amount of material and prints in the most efficient way. 3D prints using PLA are generally porous and although can be washed in warm water and antibacterial soap to remove germs, they have also been sprayed with a polyurethane lacquer to provide a barrier seal. As the 3D printing technology and range of materials progresses, filament is now being developed and used with antibacterial properties, most recently seen in the development and production of face shields for the NHS.
The advantage of 3D printing as the manufacturing technology at this stage is since there is a wide variation of bottles available the designs of the case and collar can be very quickly modified. New designs can be developed and manufactured almost overnight and personalised with minimal cost. Colours can be changed and company logos can be easily modified into the design.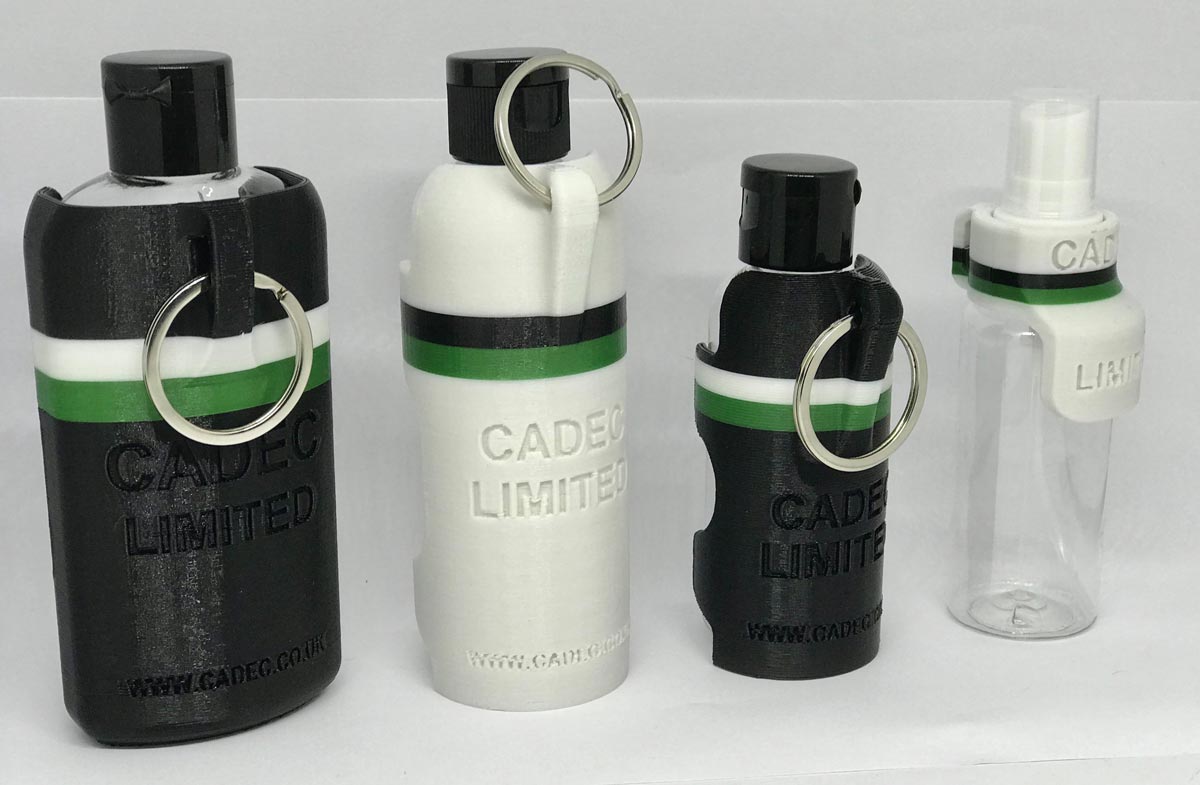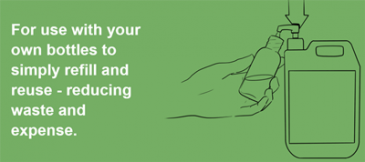 Burneston Primary School
Hand Sanitiser Case and Collar using refillable bottles given to the teachers and pupils of Burneston Primary School.