Solo-operated, quick, mechanised netting dispensing and straining system from Solo Fencing Systems. Roll out and hydraulically strain and clamp your fence with SoloNet.
SoloNet is fully mechanised so you don't have to carry heavy rolls of wire or run after it down a steep slope.
The SoloNet can be mounted onto the blade of the SoloTrak as well as loader mounted, digger mounted, and three point linkage mounted. There are multiple sizes available that can carry up to 250m/820′ rolls of netting up to 2m/80″ high. Once your fence line is in place you can easily finish the job with the unique straining system that allows you to mechanically clamp and strain the net ting for a tidy and professional fence installation
Efficient fence installation – Save on time and effort
Mechanised for tight and stock proof fences
No heavy lifting, rolling or straining
Operator friendly
Range of mounting options
Solutions for fencers and farmers
SOLIDWORKS Weldments
SOLIDWORKS Weldments functionality enables you to design a weldment structure as a single multibody part.
You use 2D and 3D sketches to define the basic framework. Then you create structural members containing groups of sketch segments.
You can also add items such as gussets and end caps using tools on the Weldments toolbar.
You can also configure multiple weldment profiles of structural members as library features. You can add different configurations of a structural member and save them as one profile in a library feature.
When creating or editing structural members, you can select the configured library features in the Structural Member Property Manager.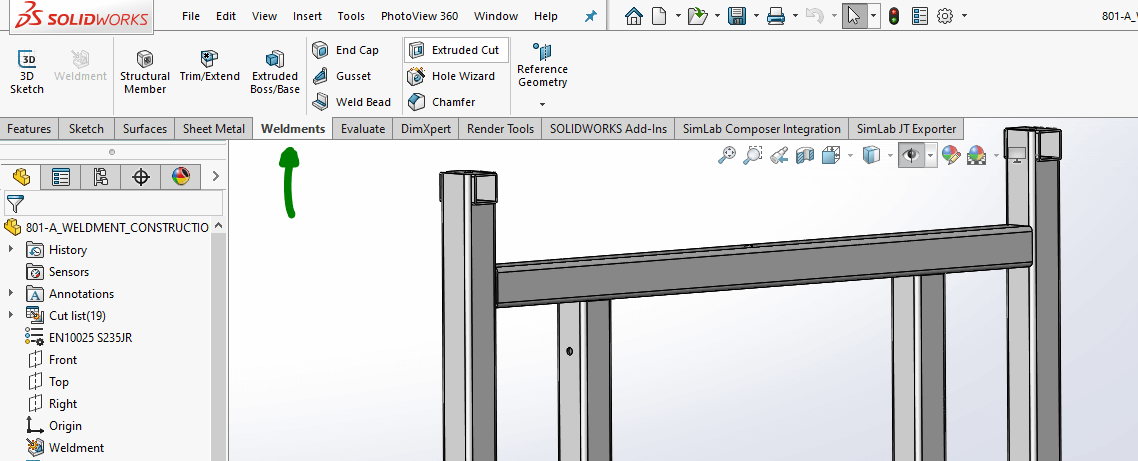 Assemblies created and rendered in SOLIDWORKS
Sample Parts List
Finished Product
SoloNet from Solo Fencing Systems.