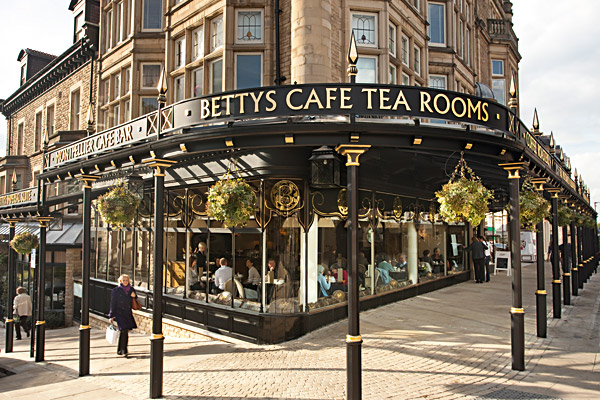 We received a request from Bettys of Harrogate, North Yorkshire, to investigate whether a home 3D printer would be a useful piece of technology for their innovation department. The main request was to see if owning their own 3D printer would help with quickly reviewing different chocolate moulds and then could these prints be used to produce final moulds. Ruth Mawer of Bettys suggested a train an idea for a chocolate mould. With this being such an interesting project we decided to also use it is a case study.
The following information outline the stages and process required to produce a chocolate mould from a 3D Print.
Sketches/CAD Modelling
---
It took approximately 4 hours from the sketching of the initial ideas to producing the final CAD model which could be exported in STL format. The model was created in Catia V5 and created parametrically so that different features on the model could be easily modified if required.
If this were a live project/commission, then at this stage these initial concept sketches and models would be shared with the client for feedback and possible modifications included prior to exporting the STL file.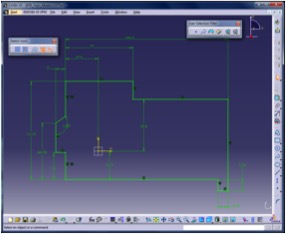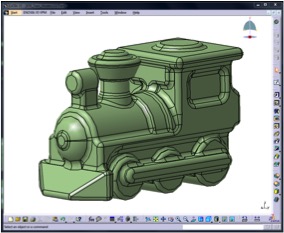 STL File
---
The STL file was exported directly from the CAD software to be checked for any errors and to confirm it was a closed volume in Meshmixer, this was chosen as it is free software and easy to use so is something that you can try yourself.
Meshmixer also includes a sculpting tool and so a generic form/shape can be loaded into the software and sculpted to add more detail. So for the example of a chocolate mould, if a an animal was chosen as the starting shape, different expressions could be sculpted onto the starting face.
An alternate software used by many companies who offer a 3D Printing service is netfabb, although this software would need to be purchased.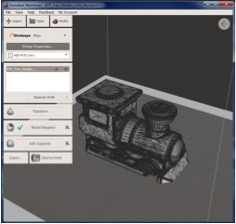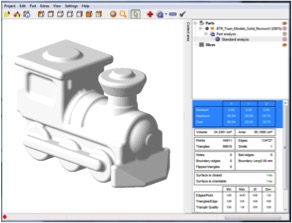 There are other mesh repair/manipulation programs available, these are the two here at CADEC that we seem to use the most.
Initial Printing
---
To demonstrate the differing quality levels and layer resolutions, the train was firstly printed with a 0.4mm layer height and with a sparse infill. It was then printed with a 0.15mm layer height with a solid infill.
For the purposes of the case study these 'concept approval models were printed on our UP! Plus 2 printer as the quality is typical of what can be achieved from a home 3D printer. The material used for models 1 to 4 was ABS.
The initial model was created to be approx 200Lmm x 130Hmm x 100Wmm so was scaled within the CAD package for the initial test prints
Print 1

Layer height 0.4mm

Sparse Infill

Fast print settings

Layers 105

Time to print – 34 mins

Print 2

Layer height 0,15mm

Solid Infill

Fine print settings

Layers 271

Time to print – 5hrs 40 mins

Print 3

The STL file was also sent to one of our suppliers to be printed using the SLS method in order to demonstrate the difference in surface finish and quality

Print 4 *

Layer height 0.4mm

Sparse Infill

Layers 105

Time to print 34 mins

Print 5

Layer height 0.2mm

Sparse Infill

Fast print settings

Layers 155

Time to print – 3hrs 20 mins

Print 6

Layer height 0.1mm

Sparse Infill

Fast print settings

Layers 205

Time to print – 3 hrs 10 mins
* We left the support material on Print 4 so that you can see how easy/difficult it is to remove from the main model. Each 3D printer has its own method of creating support structure.
In most cases the ideal scenario, for a single extruder printer, is to have minimal support structure as it reduces the risk of damaging the main model when removing the support structure.
Since we have access to additional home 3D printers, we also printed the models on a Makerbot Replicator 2 with PLA material and on a FormLab 1+ in resin.
Photos of initial concept parts
---
The parts are considered complete in the as printed state. As previously mentioned there would be the option of finishing the part by sanding them to give the smoothest possible finish but for the purposes of the case study we have left as printed.
Printing a Mould
---
Once happy with design, the next stage was to create a mould. As previously mentioned, ABS and PLA are not classed as food safe and the materials are fairly rigid so we had major doubts that due to the train design it would not be possible to remove the chocolate from standard ABS and PLA mould.
For that reason, the mould was also printed in the specialty filament Ninjaflex which is almost rubber like. The ABS and PLA prints were created to show the concept and to highlight the surface finish quality.
In CAD we modified the initial model to change it from a full train to a half train negative mould model, then exported a new STL file.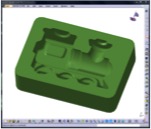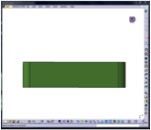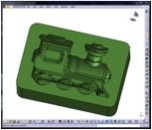 Although the ABS and PLA would not be good for creating chocolates. They could be used to produce positive resin moulds which could then be used to produce chocolate moulds. The mould of most interest and to be used for the chocolate test was the Ninjaflex mould.
Print 7

Layer height 0.15mm

Full Infill

Fine print settings

Layers 120

Time to print – 5 hrs 11 mins

Printed on the UP! Plus 2 Printer in ABSSparse Infill

Print 8

Layer height 0.15mm
Full Infill
Fine print settings
Layers 120
Time to print – 5 hrs 11 mins
Printed on the Makerbot Replicator 2 Printer in PLA

Print 9

Layer height 0.15mm
Full Infill
Fine print settings
Layers 120
Time to print – 5 hrs 11 mins
Printed on the Makerbot Replicator 2 Printer in Ninjaflex
On completion of printing, chocolate was poured into each of the moulds and left to set.
Results
---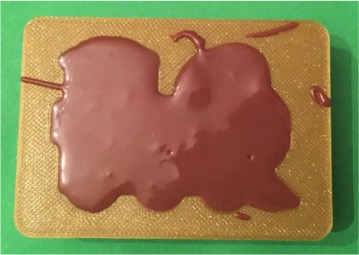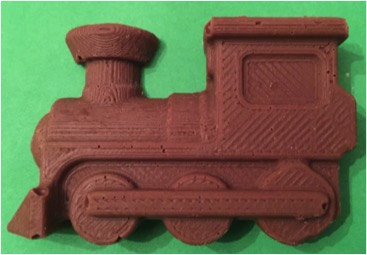 Due to the flexibility of the Ninjaflex filament, the mould could be very carefully manipulated to release the chocolate, we had a few attempts where the chocolate broke, but this was more to do with the design rather than the printed part.
The surface quality of the chocolate does not compare to that of a professional mould but with a little more development it should be possible to create a smoother part.
The initial conclusion is that it IS possible to produce chocolate moulds that are capable of producing small scale chocolates on a home 3D printer.
Using a 3D Printed Print to create a food safe mould
---
As previously described, ABS, PLA and Ninjaflex are not food safe and so the next part of the study shows how the 3D Printer could be used as part of the process for creating food safe chocolate moulds.
Going back to the CAD model, and taking only a few minutes we modified the starting model to change it from a full train model to a half train positive mould model, then exported a new STL file.
A mould box was also created in CAD ready for 3D Printing.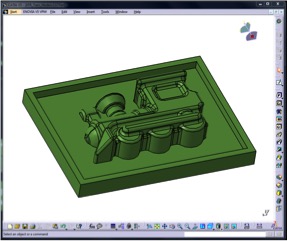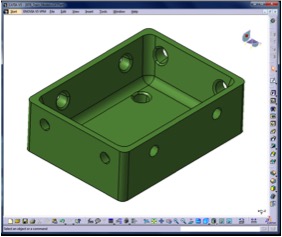 Again, once complete an STL file was exported and checked prior to sending to the 3D Printer.
Print 10 – Layer height 0.178mm, Full Infill, Standard print settings, Layers 179, Time to print – 5 hrs 11 mins, Printed on the Stratasys Mojo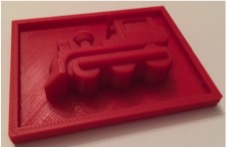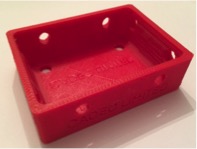 Then using Food safe Silicone moulding putty :

Moulds were created using the 3D Printed parts.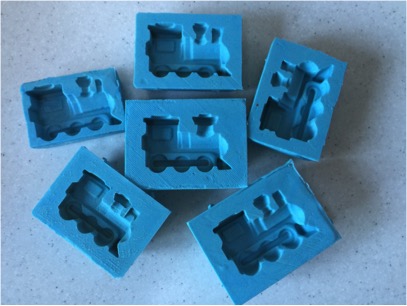 The moulds were ready for use within 1 hour and since the moulding putty is designed specifically for this application, it is quite flexible and so easy to remove the 3D Printed mould box, it is also much easier to remove the chocolate from the mould.
The layer lines could be reduced by either printing at a higher resolution, by sanding the original parts or by printing on a different printer, the Form 1+ would probably give the best surface finish.
For the purposes of the case study the parts printed were considered acceptable as the aim was to show the process and also highlight the capabilities of some of the home 3D printers available.
Development
---
Chocolate was poured into each of the moulds and left to set. From the initial mould it was clear that the some of the features on the train model were too fine and thin as it was difficult to remove the finished chocolate without breaking it.
From 10 chocolates we only managed to remove 2 without any of the features breaking.
Since the original CAD model was created parametrically it was very easy to go back into the CAD software and update the original construction sketches to thicken some of the features and slim down the overall width of the train.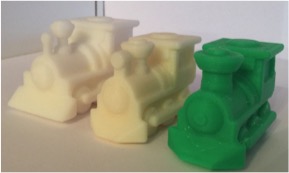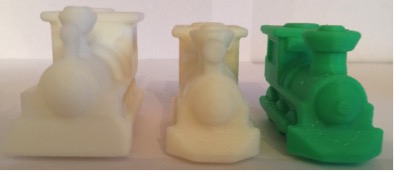 STL file then exported and a new half train positive mould could be printed, the same mould box could be used and so in under 4 hours we had an updated part to mould from.
Although the design changes improved things slightly, we still only managed to remove 6 of the 10 chocolates without breaking them as the design was still not robust enough.
The same process of updating the CAD, exporting an STL and 3D Printing the file was repeated with a more radical changed of deleting one of the funnels, new silicone moulds created.
This final change enabled us to remove the chocolate from the mould with 100% success rate.
This process was completed to really highlight the positive effect that 3D Printers can have on the design & development process. Being able to quickly update a model, and re-print a new mould a number of times within one day is quite impressive when compared to the traditional prototyping methods.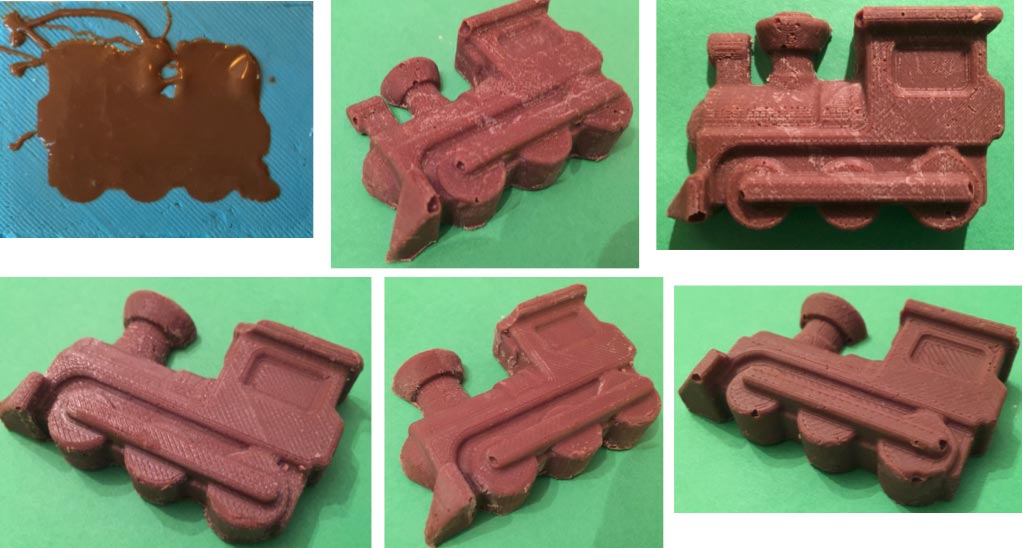 Summary
---
From the results pictures it can be seen that it is possible to produce a chocolate from a chocolate mould created on a home 3D Printer. So it could be a useful prototyping tool to quickly evaluate different design concepts prior to having industrial moulds for volume production manufactured.
The initial study concentrated on producing moulds for small size solid chocolates. By scaling up the CAD model it would be possible to print much larger moulds and if the opposite halves of the moulds were printed too, it may be possible to produce Easter Egg size and type hollow chocolates.
A few factors to be aware of when considering this are:
The print times will massively increase, 10 Hour +
The cost to produce the parts will be much higher due to the volume of material being used
When printing large parts on a home 3D printer, problems such as warping are more of an issue and extra care needs to be taken
Note: As can be seen on the images of the chocolate, the surface is not terribly smooth. What we have tried to do is show you the concept and how a home 3D Printer could be used to quickly evaluate a design concept.
If we spent more time refining the original parts, only printed with the best resolutions with the highest quality materials then we have no doubt that we could achieve a smoother chocolate.
An Alternate method
---
After showing that a home 3D Printer could be used to quickly created concept moulds to evaluate different designs we still had something niggling us.
For small size chocolates the process works quite well, however there are other process available where better results could be achieved.
One of the main issues with the 3D Printed parts for this chocolate mould application is the surface finish. Although with time and effort it is possible to improve the quality there are better ways and better materials for producing moulds.
Instead of 3D Printing the train model, you could also CNC machine it from wood with the intention of then using the vacuum forming process to form a mould from food safe approved plastic over the top, once happy with the final mould design and after testing/approval it would be a very cost effective way of producing a large number of very low cost moulds that could be used on a small scale production basis.
Most people associate a CNC machine for producing metal components and historically these have been large industrial machines often housed within large factories.
As with the 3D Printing technology though there are companies who are now producing 'home' machines which can be used by small companies, hobbyists and innovation & technology departments to produce either prototypes or a small batch of parts.
The machines have a number of uses, if you are aware of www.notonthehighstreet.com you will see on there people offering many unique personalised products, many of these can be created on a home CNC machine.
The same machine could also be used to machine the moulds from resin which is a much more widely used material for producing chocolate moulds compared to ABS and PLA from the 3D Printing and would give a very high quality finish.
Although there are currently not as many, there are more and more of this type of machine appearing on the market. In the same way that home 3D printing is what could be termed a growing and learning industry, so is the home CNC machining industry.

The important thing to remember with both is that they are still a developing technology and are not 'out of the box, everything works right first time with no issues' machines. If you are prepared to put in the time and effort and start with the understanding that these machines do have limitations, then they are great bits of kit to work with and could prove to be useful tools.
Again as with 3D Printing bureau's there are places that you can send your CAD file and they will CNC the part for you with many offering wide range of materials for you to use.
Once you have the mould, the next stage would be to vacuum form over it.
3D Printers that can print food!
---
In addition to using 3D printers to create moulds for shaping chocolate and food, there are also 3D printers that will extrude food rather than plastic, this is a relatively new technique but the industry/niche is gathering pace on a daily basis
Below are details of some of the 3D Food Printing companies and options which may be good for you to explore further :
Choc Edge, a company based in Exeter, Devon, UK is selling a chocolate printer, which prints in either 2D (designs) or 3D (simple models). There are two versions of this printer – V1 costs £2,888.00 and V2 costs £3,888.00. They also rent the printers out for corporate events.
A 3D chocolate printer, the CocoJet, a collaboration between 3D Systems and Hershey, was unveiled at CES in the USA in January 2015.
http://3dprintingindustry.com/2015/01/06/hershey-3d-systems-unveil-new-cutting-edge-chocolate-3d-printer-ces
A Dutch supermarket (Albert Heijin AH XL) in Eindhoven is probably the first commercial venue and certainly the first supermarket to offer its customers the opportunity to design and print their own chocolate decorations on cakes. They use a portable Byflow 3D printer. (February 2015)
http://3dprintingindustry.com/2015/02/05/dutch-supermarket-3d-prints-chocolate-cakes-byflow
Other Food
---
Pancakes- PancakeBot is a 3D printer designed by Miguel Valenzuela from the USA. He has built a prototype acrylic version and has started a Kickstarter campaign with a goal of $50,000 to fund it. As an indication of the popularity of at least the idea of 3D food printing, the campaign has currently raised $226,986 and has 1,184 backers with 17 days to go.
https://www.kickstarter.com/projects/1853707494/pancakebot-the-worlds-first-pancake-printer
and http://3dprintingindustry.com/2015/03/12/pancakebot-food-printer-blows-past-goal-on-kickstarter/
General Food
---
ChefJet and ChefJet Pro – "the world's first and only professionally certified, kitchen-ready 3d food printers". Made by US company 3D Systems. ChefJet Pro 3D printer "is a full-colour, large format printer with a build volume of 10x14x8". ChefJet Pro printable materials also come in a variety of recipes, including chocolate, vanilla, mint, sour apple, cherry and watermelon." Available in the second half of 2015.
http://www.3dsystems.com/es/chefjet
Foodini – Natural Machines, a Spanish company, has developed a 3D food printer. It is currently on a limited production run, with projected mass production in the second half of 2015. It's aimed at both commercial and domestic kitchens and will cost around 1000 EUROs.
http://www.naturalmachines.com/
Fruit
---
Dovetail – Scientists in Cambridge have developed a 3D printer capable of creating edible fruit in a process called "spherification". (July 2014)
http://www.3dprinterworld.com/article/future-fruit-3d-printed-engineering-delicacies
Who uses or is likely to use 3D Food Printers?
---
NASA – In 2013, the space agency awarded a $125,000 contract to Systems and Material Research Consultancy of Austin, Texas to study the feasibility of using 3D food printing technology in space.
http://www.nasa.gov/directorates/spacetech/home/feature_3d_food.html#.VRBNeOE2OUk The result was a 3D printed pizza
http://www.ndtv.com/offbeat/nasas-3d-printer-makes-pizzas-for-astronauts-548990
US Army – The US Army is aiming to feed its soldiers using a 3D printing method called ultrasonic agglomeration-a different method from most other 3D printing. (August 2014). It is currently only at the small snack stage but is looking to produce more complex meals such as pasta eventually.
http://motherboard.vice.com/read/the-armys-3d-printed-food-will-give-soldiers-personalized-meals
Elderly people who have difficulty swallowing food – Biozoon, a German company, are using 3D food printing to create food for nursing home residents, which may be more easily swallowed than the original counterpart. Aiming to have it ready by early 2016.
http://www.3dprinterworld.com/article/german-firm-plans-sell-3d-printed-food-for-elderly
Producers of Sustainable Foods – There is some concern that meat consumption especially in the developed Western Word is unsustainable. In the Netherlands, research is ongoing into whether nutrient rich algae and insects could be transformed into something which looks appetising by a 3D printer.
http://www.washingtonpost.com/blogs/innovations/wp/2015/01/28/5-amazing-ways-3d-printed-food-will-change-the-way-we-eat/
And Finally…Taste Test
Candy, chocolate and cookies at CES 2015
http://www.wsj.com/articles/taste-testing-3-d-printed-food-1420822231